BZK Alco是波兰最大的农产品加工集团之一。该集团包括Bakoma、Polskie Młyny、Komagra、Bioagra和Bioagra Oil。这就保证了我们的酒水是由专家们用最好的原料制成的。BZK Alco 100%为波兰人所有。
BZK Alco生产的酒是具有相种类中质量最高的。我们是波兰唯一一家在各个阶段控制伏特加生产过程的公司。我们选择谷物,然后结合我们自己的水,把它倒进瓶子里。我们是欧洲唯一一家使用欧洲技术生产纯酒精的公司。独特的技术,高品质的谷类食品,以及我们自己的水来源和装瓶厂,使我们能够提供最高质量的酒精今天可能。
值得注意的是,中国目前是全球最大的白酒消费国,包括伏特加、威士忌和白兰地。据中国葡萄酒及烈性酒的专家估计,到2021年中国葡萄酒及烈性酒的需求将达到240亿美元。
2018年,参议员科莫罗夫斯基有机伏特加在最负盛名的欧洲比赛中获得了金牌——世界杯选拔赛、国际烈酒挑战赛银牌和旧金山世界烈酒大赛铜牌。
到目前为止,BZK ALCO已经赢得了世界杯选拔赛的金牌和旧金山世界烈酒大赛的银牌。其独特的包装进入了由设计院组织的2018年优秀设计大赛的决赛。
BZK Alco is part of one of the largest groups in Poland specializing in the processing of agricultural products. The group includes Bakoma, Polskie Młyny, Komagra, Bioagra and Bioagra-Oil. This guarantees that our drinks have been created by experts with the best ingredients. BZK Alco is 100 percent Polish-owned.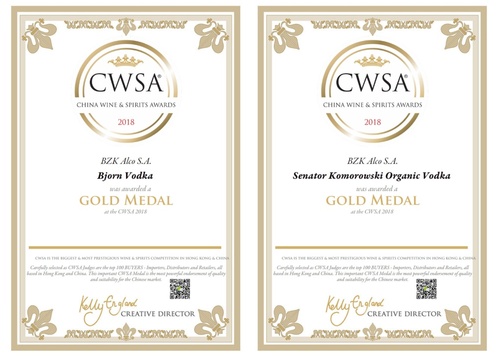 The alcohols produced by BZK Alco are and will always be of the same highest quality. We are the only company in Poland to control the process of vodka production at every stage. We choose the grain from which we produce our own spirit, and then combine it with water from our own sources and pour it into the bottles. We are the only ones in Europe to use a technology in Europe that allows the production of completely pure alcohol. The unique technology, high-quality cereals as well as our own sources and a bottling plant allow us to deliver alcohol of the highest quality possible today.
In 2018, Senator Komorowski Organic Vodka won Grand Gold Medal in the most prestigious European Contest – Monde Selection, Silver in The International Spirits Challenge and Bronze in The San Francisco World Spirits Competition.
By now, Björn has won Gold in Monde Selection contest and Silver in he San Francisco World Spirits Competition. Its unique packaging reached the finals of Good Design 2018 contest, organized by The Design Institute.